EDUCATION
•
1992-1998       University of Ljubljana, Biotechnical faculty, Biology Department
•
1998-2006       University of Ljubljana, Biotechnical faculty, Interdisciplinary postgraduate study of Biotechnology
WORK EXPERIENCE
•
1998-2006
             National Institute of Biology, Young Researcher
•
2006-present        
National Institute of Biology, Researcher


AREAS OF RESEARCH


1)

Potato – potato virus Y interaction, systems biology approach 


We are investigating the interaction of potato with its agronomically important viral pathogen, PVY on different (molecular, transcriptome, proteome, sRNA) levels. We have confirmed the role of plant hormone salicylic acid in the hypersensitive resistance response of cv. Rywal (Baebler et al., 2014). Whole genome transcriptome analysis has shown a delayed response in potato plants without salicylic acid and identified potential players of the resistance response. We have also shown that the virus is not limited by the HR lesion, confirming that HR cell death is separated from the resistance mechanisms which lead to PVY restriction in Ny-1 genetic background (Lukan et. al, 2018). Moreover, we have shown that in the salicylic acid-dependent response to PVY (Baebler et al., 2011), small RNAs represent important regulatory layer, connecting development and immune signalling (Križnik et al., 2017).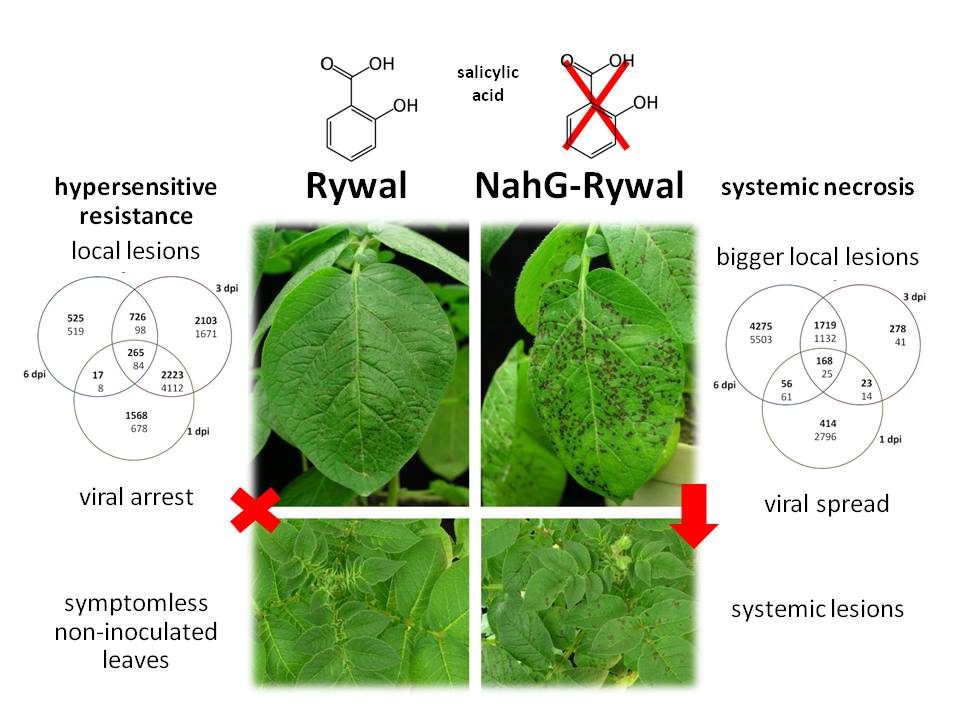 Figure: Symptom appearance and number of differentially expressed genes (bold, upregulated; regular, downregulated) in virus vs. mock treated plants of cv. Rywal (left) and NahG-Rywal (right). (Baebler et al, 2014)


Selected publications
Baebler Š, Witek K, Petek M, Stare K, Tušek-Znidaric M, Pompe-Novak M, Renaut J, Szajko K, Strzelczyk-Zyta D, Marczewski W, et al. 2014. Salicylic acid is an indispensable component of the Ny-1 resistance-gene-mediated response against Potato virus Y infection in potato. Journal of experimental botany 65, 1095–1109.  https://doi.org/10.1093/jxb/ert447
Baebler Š, Stare K, Kovač M, Blejec A, Prezelj N, Stare T, Kogovšek P, Pompe-Novak M, Rosahl S, Ravnikar M, et al. 2011. Dynamics of Responses in Compatible Potato - Potato virus Y Interaction Are Modulated by Salicylic Acid (G Bonaventure, Ed.). PLoS ONE 6, e29009. https://doi.org/10.1371/journal.pone.0029009
Križnik M, Petek M, Dobnik D, Ramšak Ž, Baebler Š, Pollmann S, Kreuze J, Žel J, Gruden K. 2017. Salicylic acid perturbs sRNA-gibberellin regulatory network in immune response of potato to Potato virus Y infection. Frontiers in Plant Science, vol. 8, str. 1-14. https://doi.org/10.3389/fpls.2017.02192h
Lukan T, Baebler Š, Pompe Novak M, Guček K, Zagorščak M, Coll Rius A, Gruden K. 2018. Cell death is not sufficient for the restriction of potato virus Y spread in hypersensitive response-conferred resistance in potato. Frontiers in Plant Science. https://doi.org/10.3389/fpls.2018.00168
2)

Development and data analysis tools 


We are focusing on various approaches to omics data analysis, integration and visualization. Recently we have developed GoMapMan (
www.gomapman.org
), an open web-accessible resource for gene functional annotations in the plant sciences and quantGenius (
http://quantgenius.nib.si/
), a web application for qPCR data analysis.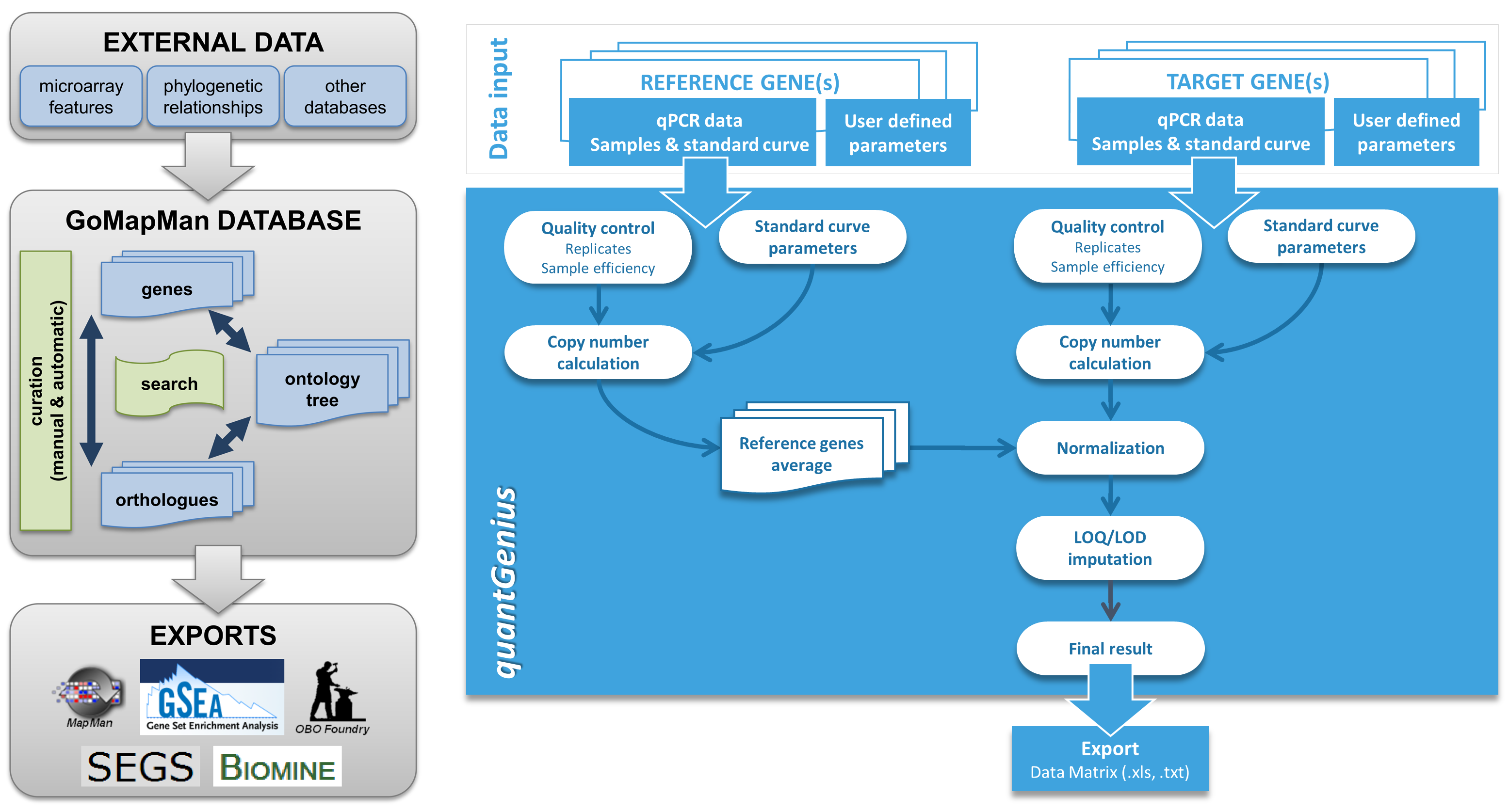 Figure: Scheme of developed resources GoMapMan (left) and quantGenius (right)
Selected publications
Baebler Š, Svalina M, Petek M, Stare K, Rotter A, Pompe Novak M, Gruden K. 2017. quantGenius : implementation of a decision support system for qPCR-based gene quantification. BMC Bioinformatics. https://doi.org/10.1186/s12859-017-1688-7
Ramšak Ž, Baebler Š, Rotter A, Korbar M, Mozetič I, Usadel B, Gruden K. 2014. GoMapMan: integration, consolidation and visualization of plant gene annotations within the MapMan ontology. Nucleic acids research 42, D1167–75. https://doi.org/10.1093/nar/gkt1056
Rotter A, Usadel B, Baebler Š, Stitt M, Gruden K. 2007. Adaptation of the MapMan ontology to biotic stress responses: application in solanaceous species. Plant methods 3, 10. 

 

https://doi.org/10.1186/1746-4811-3-10
3)

Transcriptomics in pharmaceutical biotehnology and ecotoxicology


Transcriptome analysis was applied in optimization of drug development (Petek et al., 2010), characterisation of pharmaceutical production strains (Kirm et al., 2013), cell line development (Jamnikar et al., 2015) and in response of to environmental residues of cytostatics (Kovacs et al., 2015).



Figure: Left - model of transcriptome response to fosfomycin primary effect in S. aureus (Petek at al., 2010). Right - Histology, DNA damage and gene expression effects of 5-FU in zebrafish after chronic exposure to low doses of the cytostatic 5-fluorouracile (Kovacs et al, 2015) 

Selected publications

OTHER ACTIVITIES
RESEARCH PROJECTS 
SUSPHIRE

- Sustainable Bioproduction of Pheromones for Insect Pest Control in Agriculture, (2018-20120, ERANet Cobiotech project, national coordinator,

http://susphire.info/susphireproject/

)

Fate and effects of cytostatic pharmaceuticals in the environment and the identification of biomarkers for and improved risk assessment on environmental exposure  (Cytothreat; FP7 project, 2011-2014; WP leader,

http://www.cytothreat.eu/

)

Biotechnology and Plant Sistems Biology (programme, 2015-2020)

Spatiotemporal analysis of hypersensitive response to Potato virus Y in potato (2016-2019)

Setting up the basis for multiscale systems analysis of potato defence signalling (2014-2017)

Analysis of heterogeneous information networks for knowledge discovery in lifesciences (2016-2019)

ELIXIR-EXCELERATE (ESFRI, 2015-2018)

EDITORSHIP AND COMMITTEES
COST Action CA15110, Harmonising standardisation strategies to increase efficiency and competitiveness of European life-science research, management committee member (2016-2019)

Centre for Functional Genomics and Biochips, substitute to management committee member

Slovenian Society of Plant Biology president

NIB business committee  member (2010-2017)

External supervisory member of BioApp Interreg project

Manuscript reviewer for Molecular Plant-Microbe Interactions, Journal of Experimental Botany, PlosOne, Plant Physiology in Biochemistry,  Journal of Plant Physiology and Central European Journal of Biology

SHORT CV
Špela Baebler was born in 1973 in Ljubljana. In 1998 she graduated from the Department of Biology, Biotechnical Faculty, University of Ljubljana. As stipend of the Japanese government, she has studied 6 months at Miyazaki University (Japan). After graduation, she has been working at National Institute of Biology in Ljubljana as a junior researcher. In 1998 she enrolled in a postgraduate program of Biotechnology at the Biotechnical faculty. In 2001 she has completed Master Course with a thesis on plant secondary metabolite production and received Krka award. As a part of her PhD study, she was investigating of gene expression in potato – virus interactions, using microarray and quantitative PCR analysis and defended the thesis 2006. Since then she is continuing her work on the plant – virus interactions focusing on the development of tools that enable easier interpretation oh high-throughput data. Moreover, she is involved in several industrial projects with the main focus of implementing systems biology approaches in pharmaceutical industry. She was work package leader of an FP7 project Cytothreat aimed at identification of environmental risks of cytostatic residues. Currently, she is a national coordinator of an ERANet Cobiotech project SUSPHIRE with a goal to develop bioproduction of alternative plant protection agents. 
She is a co-founder of NIB spin-out company BioSistemika and organizer and lecturer at quantitative PCR workshops, organised in collaboration of NIB and BioSistemika. She teaches at University of Ljubljana and Jožef Stefan postgraduate school and is involved in several science communication activities. She is fluent in English (CAE certificate) and can communicate in French and Japanese.