19 Mar

Pilot monitoring of Slovenian waste waters for the SARS-CoV-2

At the National Institute of Biology, financed by the Slovenian Research Agency, we are currently performing a pilot monitoring of Slovenian waste waters for the SARS-CoV-2 virus and mutations connected to its variants of concern. Here, we publish the results of our measurements, compare them with clinical data and provide with short interpretations.


SARS-CoV-2 in waste waters

(30. 4. 2021)


For most waste water treatment plants (WWTPs), the highest amounts of SARS-CoV-2 was measured towards the end of October/beginning of November 2020. Afterwards there was a drop in measured virus but in early March the trend reversed into a slow increase across all WWTPs. In mid April the amount of SARS-CoV-2 has dropped back to the early March values and is currently stable.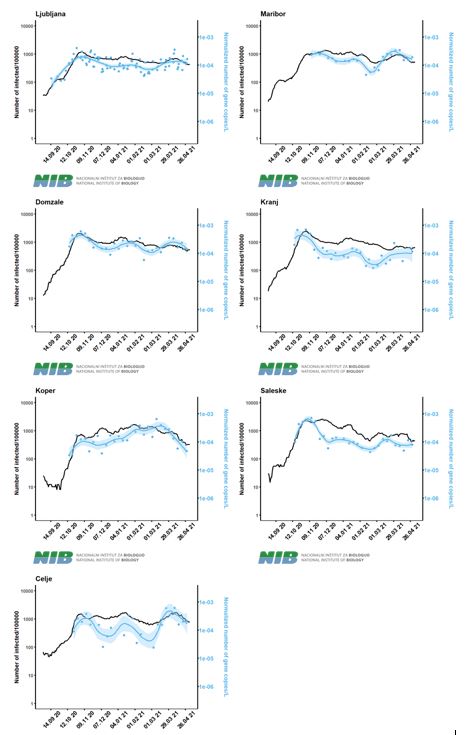 The dynamics of the virus in WW was approximated with the LOESS method.


---
Fraction of mutations connected to SARS-CoV-2 variants of concern in waste waters

(16. 4. 2021)



In April, version B.1.1.7 prevails in all in all treatment plants.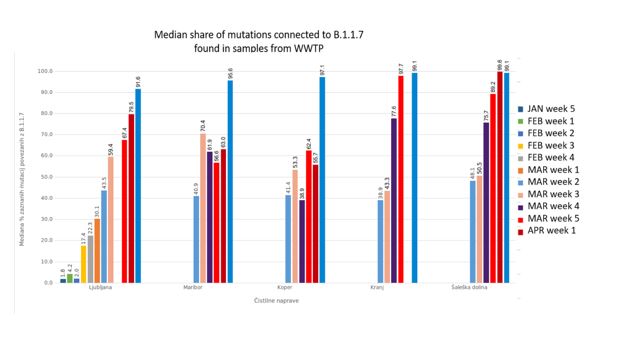 ---

We thank all partners of the pilot monitoring:
Slovenian Research Agency,
Central WWTP Ljubljana,
Central WWTP Domžale-Kamnik,
Central WWTP Maribor,
Central WWTP Celje,
Central WWTP Koper,
Central WWTP Kranj,
Central WWTP Koper,
Central WWTP Šaleške doline,
National Laboratory of Health, Environment and Food,
Institute of microbiology and immunology of the Medical Faculty of University of Ljubljana,
The Division of Paediatrics,
UMCL.