The 2015 Miroslav Zei Award for Exceptional Achievements in the Field of the Activities of the National Institute of Biology
The Miroslav Zei Awards
for Outstanding Achievement
in the field of activity of the National Institute of Biology in 2015 were received by:
Assistant Prof. Matjaž Kuntner, PhD – The Miroslav Zei Award for Outstanding Scientific Research Achievement in the last five years.
Dr. Matjaž Kuntner, Head of the Jovan Hadži Institute of Biology at the Science and Research Centre of Slovenian Academy of Sciences and Arts, works in the field of arachnology, i.e. the study of arachnids, especially the Nephilidae group of spiders. With a number of excellent publications in international scientific literature in recent years he has significantly contributed to the understanding of the biology and systematics of these animals in our country and in the world. He received Miroslav Zei Award for an outstanding achievement: the discovery of new species of spiders in the Old World Tropics, among them endemic species from the oceanic islands of Madagascar, Mauritius, Réunion and Ryukyu, and the endangered ecosystems in Australia, Asia and Africa.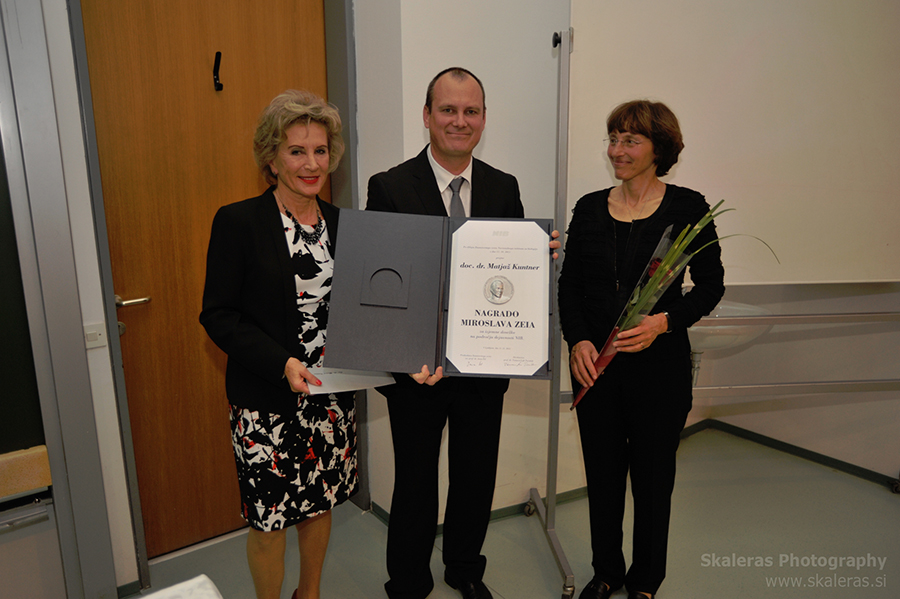 Associate Prof. Bojan Sedmak, PhD – The Miroslav Zei Award for Outstanding Achievement in Development in the last five years.
The award for invention, which extends the scope of environmental technologies with the highest level of technological development, has been given to Dr. Bojan Sedmak, who has been very successful in the transfer of basic knowledge to the economy sector in recent years.


The result of fruitful teamwork and excellent abilities of Dr. Bojan Sedmak to bring together and link the academic and the business-technical sphere is the application at the European Patent Office of the invention for a method and system for simultaneous non-invasive detection, differentiation of composition, structure and morphology of microscopic masses and communities, their changes and conditions through pulse-induced lighting.